Main parameters:
- maintenance-free pulsed fiber laser with an output of 10 or 20W
- working area 112 x 112 or 180 x 180 mm
- a scanner head with a maximum speed of 5000 mm/s
- conveyor stepper motors to ensure maximum accuracy
- width of material 25 to 120 mm, thickness 0.055 to 0.3 mm
Next parameters
- air cooling
- inspection window and control panel with LED indicators
- mechanical axis Z
- PC with operating software cabLase and OS Windows
- external rewinder ER4 / 300 LM
- class 1 laser
Our experts
are ready to help
The cab Label Marker marks labels different in size precise and directly from the roll. Labels can be cut out without any additional tools. The cab laser label enables to create different-sized labels out of laser-reactive or two-layer acrylic label material. Labels up to a width of 120 mm are laser marked and adapted to the size requested. The labels can be singularized after the marking by the automatic cutting knife or can be rolled up by means of the External Rewinder ER4/300 LM.
The software cabLase provides a graphical interface for real-timecontrol or the COM interface for customized programming. cab offers solutions for integration into manufacturing lines, laser safety workstations as well foil and type plate marking systems.
Basic set-up
The integrated industrial PC housed in a 2U rack (Intel Pentium Dual-Core 2,00GHz)2 GB RAM, 80GB HDD, CD-RW / DVD-RW, USB 2.0, Windows XP Professional ™19 "LCD monitorInterface RS232 / CReady for connection to the internal network (Ethernet LAN) and the Internet
Find more
Optional accessories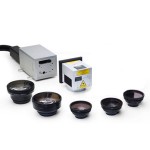 We offer you the following focus lenses for our galvo marking lasers. Working fields F-100 Standard: F-160 F-254 F-420 70 x 70 mm 120 x 120 mm 190 x 190 mm 310 x 310 mm Focus diameter ~ 27 µm ~ 45 µm ~ 68 µm ~ 112 µm
Find more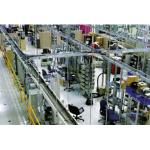 For integration into industrial production lines and workstations are designed galvolasers Megaflex SHINE Fiber II, Megaflex SHINE CO2 and Trotec SpeedMarker CL. Can be controlled either own control program (SCAPS respectively WeldMark) or externally via PLC (Programmable Logic Controller). Of course there is also the possibility of cooperation with superior control system.
Find more